The sun is out and it's home project season in the Northwest. If you're looking for inspiration, we have researched the 2014 top trends in home improvement.
1. Big color, lots of it.
According to Realtor.com, in 2014, bright colors "will be more of a focal point", and "designers will start featuring vibrant accent walls, main paint colors and flooring" bringing color throughout the house.
We liked this trend and put a green wall in our offices which brightens things up for our employees.
Washington Energy Services offices displaying their values. Location: Lynnwood, Washington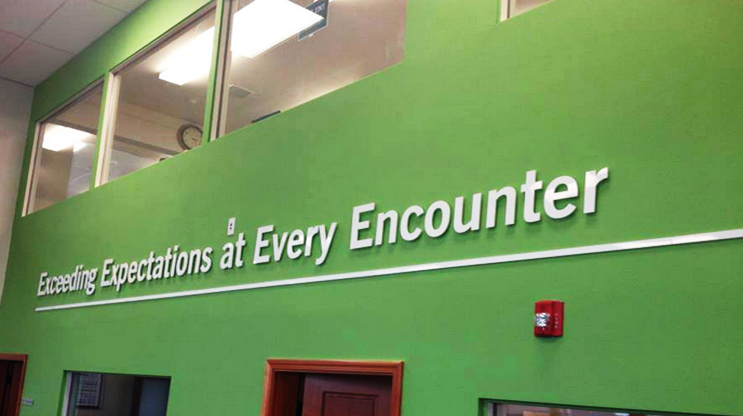 2. Retrofit your home for comfort.
In Seattle, our customers start with an expectation that the heating, cooling, windows or siding products we present them with will be energy efficient, but will they also improve personal comfort? A good example of accomplishing both goals is upgrading to a heat pump (ducted or ductless). Popular elsewhere in the US for many years, heat pumps are a recent energy saving trend in the Northwest. They provide efficient heating plus a comfort bonus of air conditioning, which we do seem to need lately.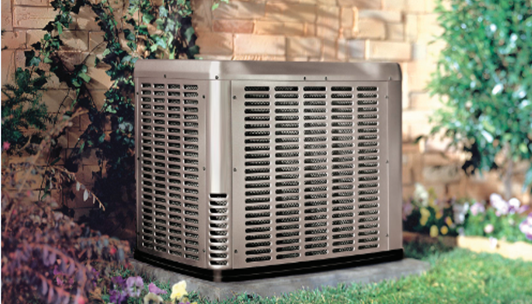 Another trend we see is people requesting air sealing, which reduces unwanted drafts in the home, saving energy and keeping temps even. A great way to learn how to cost effectively improve your comfort is with a home energy audit. Audits are not just for energy saving!
3. Redesign outdoor living spaces and incorporate sustainable garden practices.
Okay, one benefit of the climate getting warmer is the potential for more barbeque days outside. It has also led to an increase in water conservation measures across the western US. While we don't have water shortages here, we at Washington Energy believe in sustainability every day, not just when asked. Taking a thoughtful approach to what you plant and where, can save water, reduce your bills and still give you a beautiful look. Easy ways to start are incorporating native plants and using water conserving mulch, and any garden center can provide great information for your particular application. If you would like to learn more about sustainable gardening visit Built Green (www.builtgreen.net) or check out WSU for some interesting information on this topic. One great idea they discuss is creating hydrozones, where plants with similar water needs are grouped together. Extension.org – Planning and Design of Water Conservation
4. Enjoy your garden longer by canning or pickling it.
This "#1 Food trend of 2011", according to the Food Channel, is still hot, and we mean 'hot' as in spicier than ever. Pickles are the 'artisanal' treat you can easily make at home. It makes the time, effort and water spent growing veggies in a small plot more rewarding as you'll enjoy them year round. Beyond the simple cucumber, pickled delights include asparagus, kohlrabi, fennel, beets, mushrooms, and peppers, many made in hot and spicy varieties. A favorite of ours is pickled hatch chili peppers from New Mexico. For the more adventurous, this could become a small business. You'll need pickling spice, salt, jars, a large pot to boil water and put the jars in (a lobster pot is a good size), and you'll definitely benefit from buying a simple kit that has rubber coated tongs and a basket for getting the jars into and out of the hot water, plus instructions for safe canning. Canning equipment and jars are sold in year round in stores like Fred Meyer, and during the fall season you'll find them in most supermarkets too.

5. Kitchen remodels are back.
According to Angies list, "2014 homeowners are most interested in making strategic improvements to boost functionality, increase efficiency and take advantage of existing space."  They cite some of the most popular changes in kitchens including opening up the kitchen by removing a wall or partial wall to give a greater feeling of space and to create an island area for comfortable entertaining. Other popular kitchen upgrades include hardwood floors, bamboo floors, and hidden cabinets that recess into the walls. Adding sliding patio doors to provide new ways to connect the kitchen to your outdoor living space can transform the usability of your space.
Homeowners are also expecting their kitchens to be wired for today's electronics, such as charging stations or outlets inside cabinets for a clean look. Kitchen color trends are opposite the rest of the house. White, grey and neutrals are popular including white appliances. For more on kitchen design trends check out this article by. HGTV Top 17 Kitchen Ideas
We hope you found some inspiration for your summer home project in this list. For improved home comfort and energy upgrades, call Washington Energy at 800-398-4663.