Bryant Evolution™ 189BNV Air Conditioner
This Bryant Evolution Air Conditioner is top of it's class with 60% greater efficiency than most A/C units. Central air will evenly cool your home for total comfort with maximum energy efficiency at 19 SEER.
The Bryant 189 is available in 2-5 ton sizes to fit most homes.
Free Estimate
Complete the form
Close
Tell us a little about yourself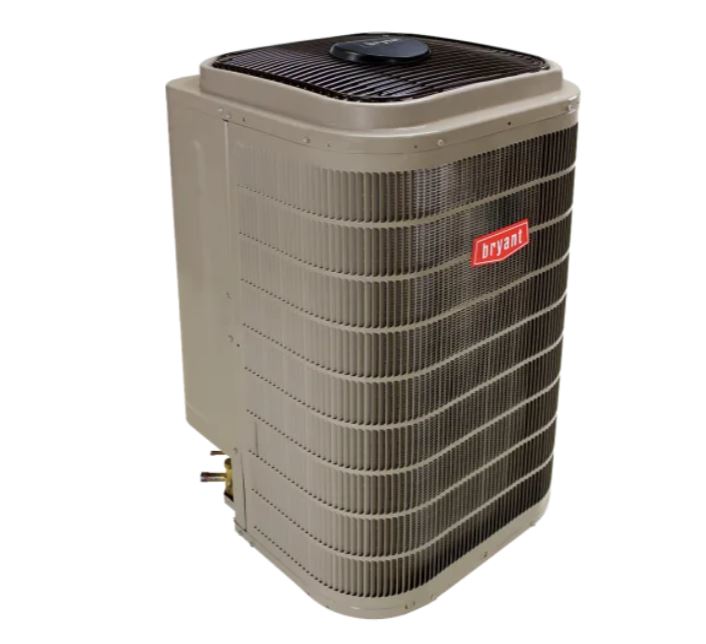 What factors will a Home Project Advisor consider when sizing a new air conditioner for my home?

The size of your central air conditioning equipment is measured in tons of capacity. Your home's design, size, insulation and other factors are input into a calculation to arrive at the proper sizing for state code requirements. We follow industry standards and local code for calculating your homes heating and cooling loads to ensure you will get the cooling you hope for.

My AC is running but it's not cooling, do I need to replace it?

If your current air conditioner is not cooling as much as you would like, you may not need to replace it yet. Central Air Conditioners like heat pumps can last 15 years or more, so if it's not that old, you may have one of these problems:

Not regularly serviced

Air conditioners, like cars need tune ups regularly. Typically an air conditioner unit should be serviced at least once a year. A service visit typically includes task such as a filter change, coil cleaning, and refrigerant fill among other things. Regular service tune ups extend the life of the appliance. In addition, you should remove leaves and debris from around the unit. To learn about putting your home's appliances on regular service plans, check out our Guardian Maintenance program.

Dirty coils and filter inside the house

If you've been neglecting regular AC tune ups, it is more than likely that the filter and coils on the air handling unit or furnace inside your house are dirty and clogging up the operation. Not only does this affect the operation of your air conditioner unit, it wears down the equipment, decreasing life expectancy.

Leaky or improperly sealed ducts

When was the last time you had someone check your duct work? Leaky ducts are common, especially in the attic area. Old ducts likely don't need to be replaced but simply resealed and insulated.

How do I know if a company is qualified to install my air conditioner?

A qualified technician should be NATE certified and factory trained on the air conditioner you are buying. To protect consumers, NATE (North American Technician Excellence) formed as a 3rd party, non-profit, certification program for the HVAC industry. Passing the NATE test shows that the person working on your air conditioner installation knows their craft.

Washington Energy Services has NATE certified installers and we are a Factory Authorized Bryant Dealer. Our installers receive hours of factory training from Bryant on each of their air conditioning products.
It was a wonderful experience, thank you to all involved! We're now enjoying our AC with the sunshine and thankful for the water heater too."
From start to finish, our experience in working with Washington Energy Services was enjoyable and satisfying. They were personable, professional, prompt and attentive to our every need. The installation crew was superb, knowledgeable, tidy and efficient. We could not be more pleased with the efforts and the results that everyone at Washington Energy Services delivered on the installation of our project."