Rheem Tankless Water Heater
The Rheem tankless water heater provides a compact and energy efficient solution for a continuous supply of hot water that won't run out – even with the longest showers! Choose from gas or propane installations that can be customized to fit your needs.
Get your free estimate
Complete the form
Close
Tell us a little about yourself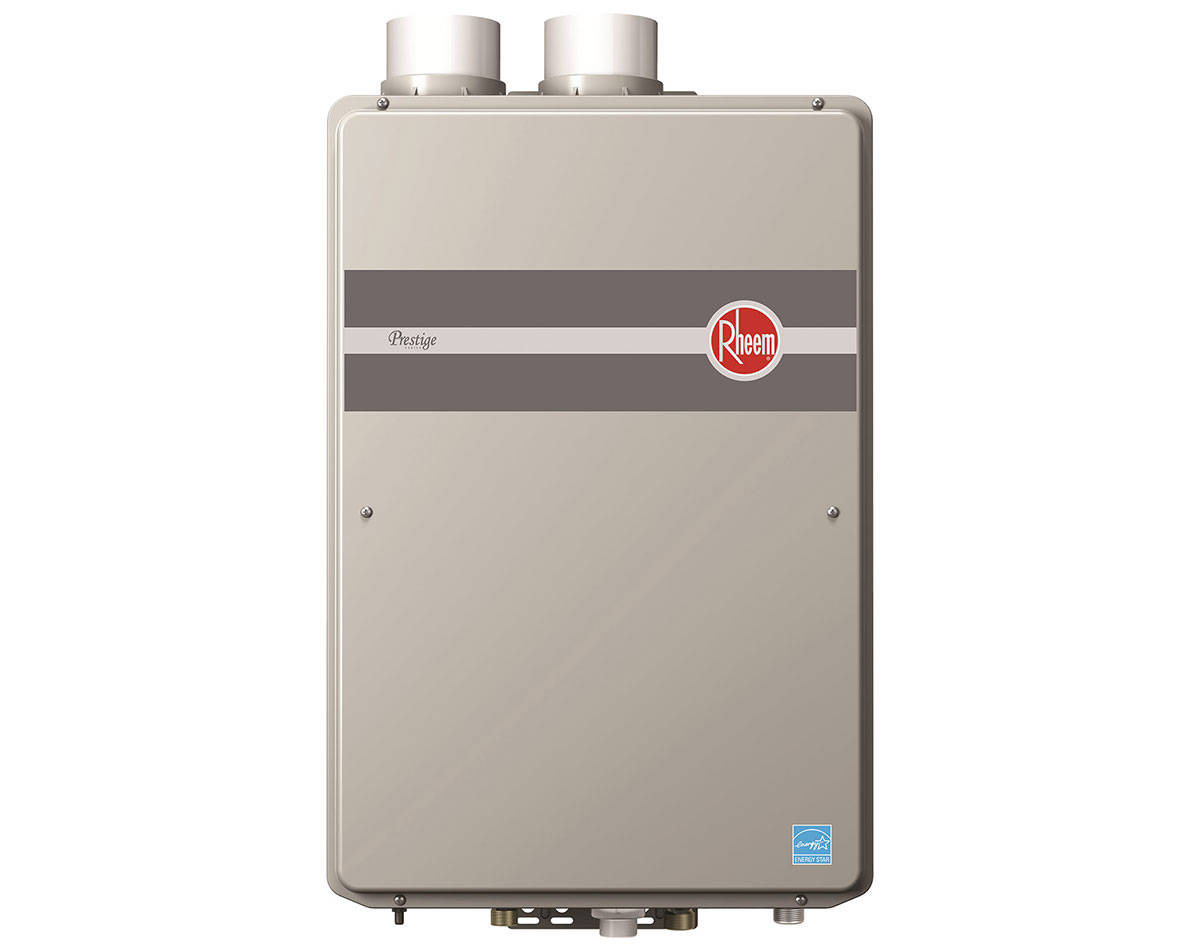 Is a Rheem tankless water heater right for me?

You have a busy family

Laundry, dishwasher and shower are always running

Imagine having 4 people take a shower back to back and the 4th person still getting perfectly hot water. Or how about doing the laundry and taking your shower at the same time. Never sit around again waiting for the hot water to heat back up. This tankless life is now possible with the Rheem tankless water heater. It's an every day game changer.

You're building your dream luxury bathroom

The spa life

Loofahs and Egyptian cotton towels only go so far. Turn any bathroom into a luxury spa when you indulge in an endless hot shower or fill your large jetted tub. You deserve it.

You own a vacation or second home

Energy savings

Tankless water heaters provide significant energy savings compared to traditional water heaters, but they are especially efficient when you are away from the home. That's because tankless water heaters only turn on when you need the hot water whereas traditional water heaters are constantly running to ensure there is always a supply of hot water readily available. If it's not running, it's not using energy.

Do you have electric tankless water heaters available?

We sell plenty of electric standard tank water heaters, but as a company, we have chosen not to offer electric tankless water heaters. They are not energy efficient, and in most cases require an electrical panel upgrade to supply sufficient power. Additionally, cases of malfunction due to the product (not the installation) have been reported too often for us to recommend it. We stand by our high standards and only install the best brands and highest quality products. If we wouldn't install it into our own home, we wouldn't install it into yours.

How much does a Rheem Tankless Water Heater cost?

The size determines the price and every home is different

There are several important factors including sizing your equipment for the number of bathrooms and people in the home, venting, gas line upgrades, and eligible utility rebates. We actively seek all rebates available to get you the lowest price possible.

Prices have come down, quality has gone up

When Tankless Water Heaters first came on the US market years ago, they were twice as expensive as today's models and had difficulties with cold water sandwiching. Quality and manufacturing improvements have brought prices down and quality up.

Get your free tankless water heater estimate today

We have been installing tankless water heaters for many years and our knowledgeable staff will provide you with objective advice along with a free estimate. Either fill out the form by clicking the free estimate button above or call us during our office hours and we'll set you up with an easy no obligation free estimate. That's our promise.