Need a Local Plumber?
Our plumbers are licensed, bonded and drug tested. We offer residential and commercial drain cleaning, general plumbing, repiping, water heaters and 24 hour emergency plumbing services. Seattle, Tacoma, Auburn, Bellevue, Lynnwood.
The Washington Energy Plumbing Difference
Our plumbers are not on commission, so you will never be ambushed by a sales pitch when you just want a true and honest price. Ask about our senior and military discounts too. We guarantee your satisfaction.
Plumbing services that we provide:
Drain Cleaning
Water Line Repair/Replacement
Sewer Line Repair/Replacement
Whole House Re-pipes
Hydro-jetting
Water Heaters
Sump/Sewage pumps
Faucets repair and replace
Toilets repair and replace
Sewer Video Inspection
Plumbing Inspection
Kitec Replacement or Orangeburg Pipe Replacement
Water leak protection systems
And more…
Find out how we help disabled vets with plumbing problems…
Plumbing Inspection benefits you and the environment
Having your plumbing inspected is a low cost way to identify potential issues before they turn into disasters. While not every disaster can be prevented, you can benefit from a home plumbing inspection. Leaky pipes not only hurt you but they waste water, and in today's drought prone environment, fixing leaks is an easy way for you to help. For more information on home plumbing inspections, check out the Plumbing-Inspections Have Big Payoff article.
Seattle Side Sewer Information:
Did you receive information from the Seattle Public Utilities about Side Sewer maintenance? In Seattle, the side sewer is the part of the sewer line that runs from the street into your house. This is actually part of your property and liability to maintain. The city has put together information at www.seattle.gov/util/sidesewer where you can learn all about side sewers and keeping them in good working order. They recommend having a side sewer inspection when you purchase your house and taking steps to keep the system healthy. Our plumbers are experts in Seattle side sewer maintenance and can help you should you have a side sewer back-up or need an inspection.
Frequently Asked Plumbing Questions
What is the connection between Washington Energy Services' Plumbers and the US Military?
We believe that the Army values represent the right way to run a plumbing company – with loyalty, duty, respect, selfless service, honor integrity and personal courage. That's what we expect of our plumbers. Our plumbing team mascot is named Sarge, he's our green army guy and he's on the side of our big plumbing truck saluting the troops daily.
We also support our troops by offering a military discount and through our special Plumbing for Disabled Vets charitable program.
Why is Orangeburg pipe a common Tacoma plumbing problem?
There is an unusually high incidence of
orangeburg pipe
(aka tar coated fiber pipe) in the Tacoma area because a large portion of the houses were built between 1945 and 1972 when this was the pipe to use. This pipe is disintegrating underground and is highly vulnerable to cracking, leaking, deformation and invasive tree root incursion. In fact, it is prone to failure more than other types of piping. The lifespan of the Orangeburg pipe was only 50 years, so most all of it is past it's prime. It is no longer allowed to be used in our state building code. Unfortunately the only solution is to remove it, and repipe.
Are there plumbing utility rebates?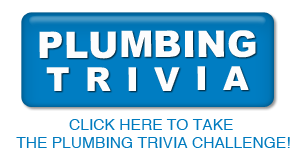 What's next? Just fill out a service request form at the top of this page, or call 800 398-4663 and ask for plumbing 24 hours a day.