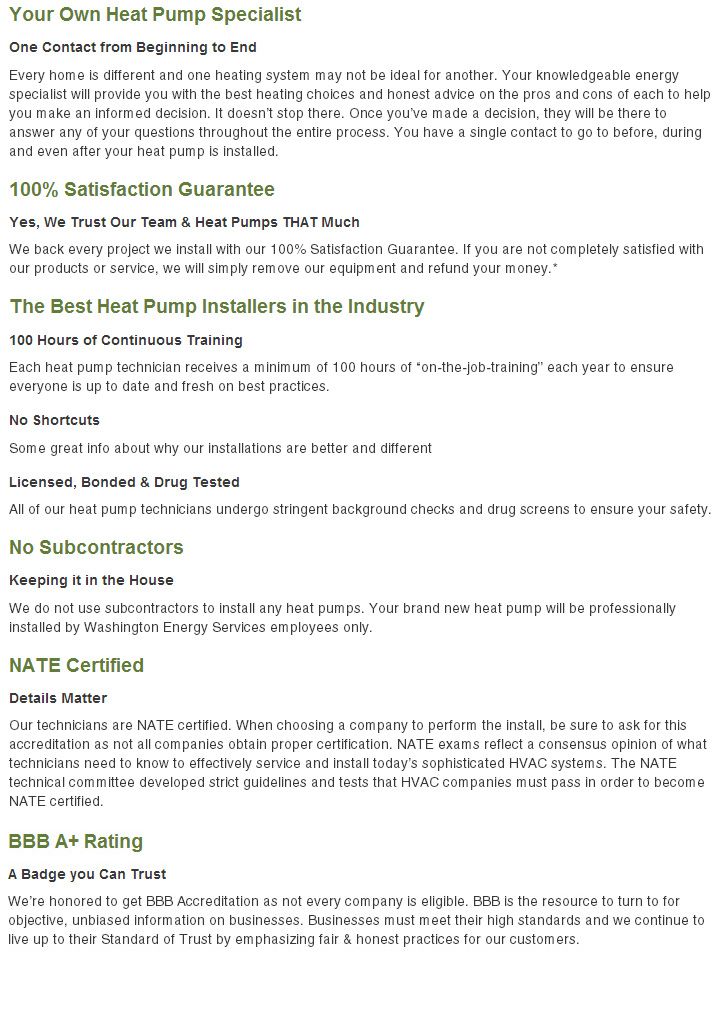 Heat Pump Testimonial
Becky – Federal Way, WA
*Some restrictions apply. Satisfaction Guarantee refund is valid for one year following installation date. See your contract for exceptions due to force majeure.

Enjoy York's Patented Defrost System
Your LX Series heat pump will run most efficiently when it can work without too many defrost cycles. York's Demand Defrost feature minimizes defrost cycles on the outdoor coil. It's money saving and helps your heat pump do more with less energy.
---

Shh! It's Quiet Technology
York engineered an equipment sound design to reduce noise and vibration of your LX Series heat pump unit.
---

Awarded the Good Housekeeping Seal
You can trust that when Good Housekeeping backs a product with their famous seal of approval and 2 year limited warranty, they know it's going to perform..
---
10-Year Limited Parts and Compressor Warranties
This product is covered by excellent warranties. You'll have peace of mind with the York 10-year limited parts and 10-year compressor warranties available for products registered within 90 days. Our representatives will provide all the details of how you can take advantage of this option for your heat pump.
---

Ecologically Sound Refrigerant
All York products now use an environmentally friendly refrigerant fluid in heat pump equipment. They are committed to protecting the environment and air quality, while still providing a strong performing heat pump system for your home.
---
More Heat Pump Features
Quieter, more efficient operation from modern technology.
Maintenance-free fan motor is permanently lubricated.
Small footprint takes up less space outdoors.
Coil protection between grill and condenser.
Closer Look At York LX 13
Extended Warranty
---
For More Information on Heat Pumps:
How Heat Pumps Work
Pros and Cons of Heat Pumps
What to Look for in a Heat Pump
Heat Pump Maintenance
Frequently Asked Questions
Can this air source heat pump work in a mobile home?
Yes, both air source and ductless heat pumps can work well in mobile homes or manufactured homes. We carry models which can fit those types of properties.
What goes into sizing a new LX Series pump for my home?
The size of your heat pump has a lot to do with your home's square footage, but that is not all. When we do a heat pump sizing calculation, the space, home design, insulation and ductwork are taken into account as well. We will want to know if you are planning to remodel, so we can anticipate how that will change your home and size accordingly. We follow Washington State code and HVAC industry standards for calculating your homes heating and cooling loads.
Will there be permits required for installation of a heat pump?
Most definitely. A qualified HVAC company will always pull permits for a heat pump installation. Our partner Northwest Permits will work with you to ensure you have all local inspections required. Permits are issued by your municipality and every town has a different price. This will be disclosed on your heat pump contract. We will also advise you on heat pump noise ordinances in your area. Some property sizes may be difficult to fit with an air source heat pump without placing a surround or noise blanket on it.
What is the advantage of this 13 SEER/9 HSPF heat pump?
The 13 SEER heat pump is an economic model which can get you the benefits of heat pumps in energy efficiency, at a value. It will not qualify for rebates and tax credits. The smaller size does allow it to fit into more yards and spaces. This heat pump comes in 1.5 ton – 5 ton sizes, so it can do the work for most Seattle heat pump needs. It's not quite as efficient as its 14.5, 16 and 18 SEER cousins.
York LX Heat Pump
14.5 SEER

An Energy Star rated heat pump backed by Good Housekeeping's Limited Warranty Seal.

Learn More

York Affinity Heat Pump
16 SEER

Enjoy peace and quiet with the QuietDrive™ design that dampens and distributes sound.

Learn More

York Affinity Heat Pump
18 SEER

With ClimaTraK™ customizable climate controller & premium system warranties.

Learn More