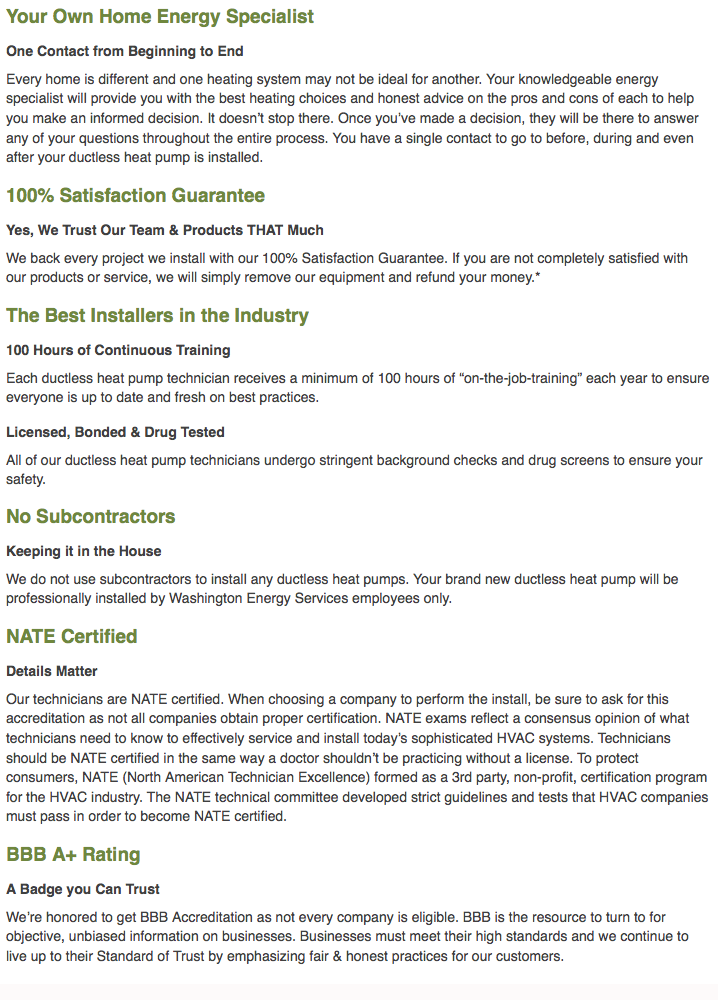 Daikin Multi-Zone Ductless Heat Pump
In sizes up to 32,000 BTUs, when paired with indoor units, save energy at 19.5 SEER and 9.2 HSPF
A ductless heat pump is a highly efficient heating and cooling system that is easy to install. Ductless mini splits heat AND cool homes at a fraction of the cost of baseboard and wall heaters.
Efficiency and Energy Savings
The EnergyStar qualified Daikin multi-zone unit provides energy efficient heating and cooling and qualifies for local rebates and federal tax credits. Daikin's inverter technology works smarter to provide more heat for you even at temperatures below freezing. Save 25%-40% vs the cost of electric baseboard heating.
Individual Comfort Levels
Serve 2 to 4 zones for whole home comfort. Manage with your wireless remote control so you are in charge of your comfort. Learn more about Daikin at www.goingductlessnorthwest.com
A Healthier Lifestyle
Enhanced indoor air quality with the titanium apatite photocatalytic air purification filter which absorbs microscopic particles and decomposes odors.
Calm & Peaceful
Quiet mode feature allows for an ultra soothing air flow.
Uninterrupted Decor
Matches with any interior decor with its sophisticated design.
Great Warranties
Standard Warranty: Compressor – 7 Years, Parts – 5 Years
---
Ductless Heat Pump Rebates
Converting From Electric Baseboard Heat
Utility Rebates May Be Available
Puget Sound Energy: $1200 Ductless Heat Pump Rebate
Seattle City Light: $1500 Ductless Heat Pump Rebate
Learn More About Other Rebates
Or simply give us a call 800-389-HOME for any questions.
---
Learn More
Daikin Multi-Zone Ductless Heat Pump Brochure
Frequently Asked Questions
How is a ductless heat pump sized?
Our Home Energy Specialist will measure and assess the heating needs of your house, and the features you are looking for in a heat pump. This will determine the size, model and price of the unit. The ductless unit will be sized in BTU's, British Thermal Units, a measure of how much heating and cooling is needed to fit your particular home. This is not guesswork and our Specialists have formulas and measurements to ensure a proper fit. A smaller home might have a 12,000 BTU unit and it can go up from there.
How do I know if I need a multi-split vs a single heat pump?
A multi-split means an additional indoor unit or units that are placed in different rooms to ensure the whole area you wish to heat and cool is covered. One outdoor unit (one unit) can handle many indoor units. That's why they call it a multi-split, because that outdoor unit can be split into several lines for different indoor units.
Typically one single head can work well in a single large room or area up to 800-1000 sq ft., so if you have a large living space and then hallways to bedrooms or a second floor, you may need a second indoor unit for those adjacent areas. Larger single family homes may need up to 4 indoor units for complete heating. The installation is fast, easy and in most cases one day.
Is this Daikin ductless multi-zone system less expensive than an air source heat pump?
It depends. If you already have good ducting in your home, and it is a larger home which will require 3 or 4 indoor units, going ductless may actually be more expensive than using the ducts you have with an air source heat pump. The real benefit of a ductless system comes when you are replacing inefficient electric baseboard or wall heating with this system. Call us for a free consultation to find out your options and costs for both types of heat pump systems.
Why choose a Daikin Multi-Split System to heat and cool my home?
Daikin is the world leader in heating, manufacturing their own systems, components and even refrigerants for perfect product integration. They are the only ductless manufacturer whose primary business is heating, not cars or appliances. In addition to top quality heating components on the inside, the slim size, extra features and excellent warranty make it a best in class ductless option. Click to learn more about Daikin on our
special Daikin website
What applications will work for Daikin ductless heat pumps?
Homes heated with electric heat – Daikin ductless heat pumps are an excellent replacement for any home heating with electric baseboard, wall or ceiling units, wood stoves and other space heaters, such as propane.
Remodels and Room Additions – A ductless heat and cooling system is perfect for home additions, remodeling project and garage conversions. There is no need for duct work and the single zone units are easily installed.
Heat that one cold room – Many older Seattle homes have insufficient ducting or had previous remodels with no ducts in one area. A single zone ductless heat pump will save the cost of adding expensive ducting to new parts of your home
Other Multi-Split Ductless Heat Pumps



Fujitsu Multi-Zone
Ductless Heat Pump

A powerful ductless system with multiple indoor heads to heat and cool your entire home.



Up to 18 SEER

Up to 9.5 HSPF
Single Zone Ductless Heat Pumps



Daikin Quaternity
Ductless Heat Pump

One of the highest energy efficient, ductless heat pumps on the market.



Coverage: 250-1200 sq/ft


Up to 26.1 SEER



Up to 11 HSPF




Daikin LV
Ductless Heat Pump

Ductless heat pump ideal for extra room add ons or larger set apart spaces.


Coverage: 250-1600 sq/ft
Up to 24.5 SEER


Up to 12.5 HSPF




Daikin KE
Ductless Heat Pump

Ductless system perfect for additions or seasonal comfort needs.


Coverage: 250-1600 sq/ft
Up to 18 SEER


Up to 8.5 HSPF