Water Leak Protection System
Protect your home from flooding disasters. Plumbers Choice system both sounds an alarm and shuts off the water when a leak is detected.
Includes:
Water Valve
Wireless water sensor with water sensor probe
Controller

Water Leak Protection – Plumber Choice
Washing Machine Water Leak Protection System w/ Automatic Power Cutoff
Detects and automatically shuts off hot and cold water supplies from the washing machine if leaky fittings or burst hoses are detected.
Includes:
Washing Machine Valves
Controller
Water Sensor Probe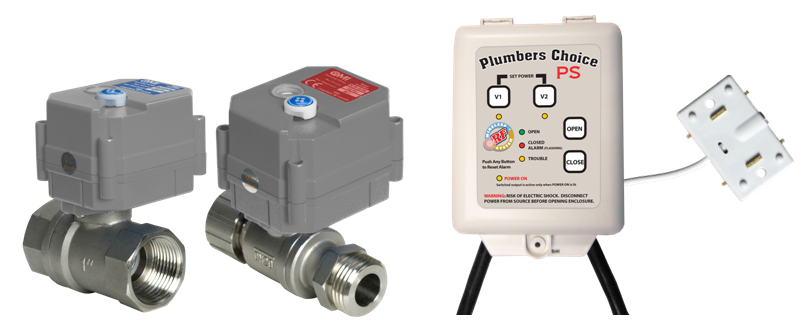 Washing Machine Water Leak Protection System
When the sensors detect a leak, the system turns on an alarm and automatically shuts off both hot and cold water lines to your washing machine appliance.
Includes:
Washing Machine Valves
Controller
Water Sensor Probe
Home Automation System
Automatically shuts off valves and sends you an email when the sensors detect gas or water leaks.
Includes:
Controller
Gateway
Wireless Water Sensor Probe
Washing Machine Valves
Home Automation Brochure
Wireless Water Sensor
Detect water leaks.
Includes:
Wireless water sensor with water sensor probe